The Battle of Tabasco (First)
October 24-26 , 1846 at ??, ??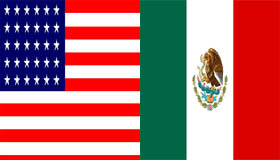 AMERICAN FORCES
Commanded by: Commodore Matthew C. Perry
Strength: 253, 7 ships
Reported Casualties: 2 Killed, 2 Wounded, 2 Drowned
MEXICAN FORCES
Commanded by: Colonel Juan B. Traconis
Strength: abt 300
Reported Casualties: 5 Killed and Wounded, unknown Missing and Captured
CONCLUSION
Inconclusive

Commodore Matthew C. Perry led a detachment of 7 ships south along the coast towards Tabasco. Perry reached the Tabasco River (present day Grijalva River) in late October and seized the town of Frontera along with two Mexican ships. Leaving a small garrison he pushed upriver towards the city of San Juan Bautista. Perry reached the town on October 24 and seized five more Mexican vessels and put the landing party ashore. Colonel Juan B. Traconis, the Mexican departmental commander lacked a sufficient force to fight the U.S. and withdrew from the town. Perry also lacked the numbers to hold the town and recalled the landing force.
During the night, Mexican forces returned to the city and barricaded themselved within the buildings. Perry realized that shelling the town was his only option to drive out the Mexican Army, and not wanting to damage the city merchants, he decided to withdraw the next day.
On the morning of October 26, Perry was readying the fleet to return to Frontera when the Mexican forces began firing upon the fleet. Perry returned fire, but a plea from the civilians made him stop and run up a white flag to show his intentions of withdrawing peacefully. While leaving one of the captured ships ran aground, and the Mexicans began firing upon it. Perry again returned fire, but he directed that the non-combatant buildings be spared if possible. The ship was freed and the fleet returned to Frontera. From there he rejoined the Home Squadron under Commodore David Connor for the operations against Tampico.
Perry returned to Tampico in 1847 with a larger force, and he achieved more successful results against Tabasco.
Site Map
| Copyright © 2012
USwars.com
,